Round up of Hawks action!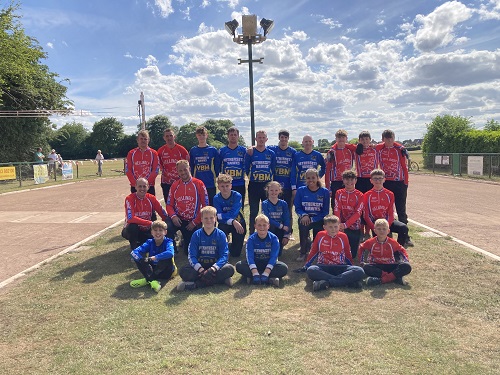 HETHERSETT HAWKS / YELLOW BRICK MORTGAGES have had a busy few weeks with racing every weekend, sometimes twice, and including riders at Poole plus a couple of Wednesday local Grand Prix and twice weekly training sessions.  All of this while some key personnel were unavailable at times so it was good to see members and parents step in to help. Newcomers continue to take an interest, usually on the Saturday morning sessions and the most rewarding has been our new Ukrainian girl Yeva Makieieva who has really taken to the sport and been warmly welcomed with her mum into the Hawks "family".
After the success of the Rod Witham Memorial event disaster struck the next day when the Hawks captain Leigh Cossey suffered a serious knee injury in a freak accident at Leicester in the Will Burns Memorial Pairs event.  He has had a multi-facet operation and is now recovering at home and it was good to see him at the track supporting the Hawks at the end of June.
The visit to Poole to contest the British Club Championships saw five riders make the trip – less than was hoped but the Hawks still competed in all the events they had entered even if only one rider was present in what were pairs events.  This commitment saw the Hawks finish unofficially 8th in the overall competition, ahead of many of the country's established Clubs. Full results –
UNDER-12
Poole 39 Kesgrave B 35 Sheffield 32 Kesgrave A 31 Newport 27 Leicester 20 Hethersett 15 (Lola Martin 15)
UNDER-16 BOYS
Kesgrave 41 Exeter 36 Poole 34 Southampton 31 Horspath 23 Ipswich 22 Hethersett 17 (Mason Martin 17)
VETERANS
Leicester B 39 Leicester A 34 Poole 33 Exeter 32 Newport 29 Sheffield 22 Hethersett 14 (Dave Martin 14)
OPEN SEMI-FINAL
Poole 56 Horspath 52 Coventry 40 Exeter 27 Hethersett 24 (Mason Martin 7 Paul Delaiche 6 Ollie Buxton 6 Dave Martin 5)
The teams set off to Eaton Park the following weekend for eagerly-awaited local derby against friendly rivals Norwich Stars. The Hawks were fortunate to have the availability of Dan Martin, on leave from the Army, and Harrison Bacon, making his debut after a winter transfer from Ipswich. This gave the Hawks a solid six and they only lost a couple of races just before the interval before giving reserves a ride in the final heat. A nine-point lead established by heat 4 set the platform and it was eight points at the finish. Mason Martin was again outstanding.
NORWICH B 75 HETHERSETT 83
(Mason Martin 18 Daniel Martin 16 Harrison Bacon 14+1 Harley Hamill 13+4 Dave Martin 11+2 Glyn Morgan 8+3 Aiesha Musa 2 Lola Martin 1)
The Youth League match was a very tight affair with Mason Martin stepping down to reserve. He came in for four rides and his 7-3 with Will Clarke in heat 9 brought the Norwich lead down to four points. So it remained going into the final heat but the Norwich pair were canny to let Mason go and preserve the 5-5 and secure a match win.
NORWICH U16 67 HETHESETT U16 63
(Mason Martin 15+1 Aiesha Musa 14+1 Will Clarke 13 Luca El Labany 9 Lola Martin 7 Ameila Dodson 3 Austin Brailey 2)
The following weekend saw Hellingly Lions from Sussex at the Memorial Playing Field for South-East League Division 2 and Youth League fixtures and after hard-fought matches the Hawks were victorious in both.  The Division 2 match saw the return of former junior prospect George Larter-Dixon. After 10 heats there were only three points between the teams but five heat wins in a row saw the Hawks home comfortably by 20 points. Veteran Glyn Morgan featured in four heat wins, the only points he dropped were as a result of an exclusion.
HETHERSETT 89 HELLINGLY 69
(Paul Delaiche 20 Harley Hamill 17+2 Mason Martin 16+1 Glyn Morgan 14+2 George Larter-Dixon 11+1 Dave Martin 11+1)
With George also bolstering the Youth team and Mason Martin also playing a full part shepherding Matthew Sidell to two 7-3 wins, the Hawks were able to build up a steady advantage until a 3-7 reverse in heat 7 put the pressure on. However, some solid rides, notably from Aiesha Musa, saw the Hawks home and stretched the lead to 10 points with a 7-3 win in the last heat.
HETHERSETT U16 70 HELLINGLY U16 60
(Mason Martin 18+2 George Larter-Dixon 18+1 Aiesha Musa 11+1 Matthew Sidell 9 Lola Martin 6+1 Luca El Labany 5 Will Clarke 2 Oscar Copeland 1)
The Hawks took this form into the next matches at home to Ipswich and were bolstered by a cameo appearance from Ben Collins and a temporary return by Charlie Lyth who now lives in Essex. Ben was certainly in the thick of the action as always being involved in restarts but recovering to remain unbeaten. Charlie looked okay at times but a bit rusty and there were some good moments from the other comeback rider George Larter-Dixon. The Harley Hamill / Ben Collins pairing scored two 7-3 wins in the first five heats and they eased the Hawks into an eight-point lead.  With Mason Martin in unbeatable form the Hawks were able to maintain that advantage. Ross Carman finally made a team debut after two years of training sessions.
HETHERSETT 85 IPSWICH B 75
(Mason Martin 20 Harley Hamill 16+3 Ben Collins 15+1 Paul Delaiche 13+1 Charlie Lyth 10+1 George Larter-Dixon 9 Ross Carman2)
There was success too for the Youth team with a 7-3 win by Mason and Lola Martin in heat 3 setting them on their way and young Ronnie Harding winning heat 6 protected by George Larter-Dixon.  The Aiesha Musa / Luca El Labany pairing also showed some good tactics.  Will Clarke was also well involved in the latter stages.
HETHERSETT U16 74 IPSWICH U16 56
(Mason Martin 16+3 George Larter-Dixon 15+3 Luca El Labany 10 Aiesha Musa 9+2 Lola Martin 9 Ronnie Harding 8 Will Clarke 7+1)
After missing Round 4 at Hellingly five Hethersett riders competed in Round 5 of the South East Grand Prix at the rarely used Somersham track and all reached "A" Finals in their categories.  Luca El Labany won the Under-10s but it was his sister Nyla who stole the show.  Months ago she was a very nervous beginner but she has improved so much she finished runner-up in the Under-8s. Austin Brailey was fourth in the Under-10s while Aiesha Musa and Amelia Dodson were 2nd and 4th respectively in the Girls category.
Two local Wednesday Grand Prix evenings have been held.  The younger age groups were in action at Harford Park and Nyla and Luca did the El Labany family double winning the Under-8s and Under-10s. Remy Davies and Alfie Gunn were 2nd and 3rd in the Under-8s while Ronnie Harding and Oscar Copeland did likewise in the Under-10s. Austin Brailey beat Arlo Davies in the "B" Final.  Aiesha Musa (2nd) and Amelia Dodson (4th) contested the Under-13 Final.
For the older age groups at Hethersett all 11 riders contested heats together before splitting into Finals.  Aiesha Musa won the Girls by default and, with some Under-16s electing to race in the Seniors, Will Clarke, Lola Martin and Jamal Musa took the minor places in the "A" Final.  It was a good decision for Mason Martin as he went on to win the Senior "A" Final followed by Paul Delaiche. Ross Carman's first competitive action saw him defeat George Larter-Dixon in the "B" Final.
To cap a successful period Glyn Morgan extended his lead in the Over-60s Eurovets Series by winning the round at Southampton. He also moved up to third place in the Over-50s after a second pace in the "B" Final.