Norfolk HSBC GO-RIDE and Senior Series Round 7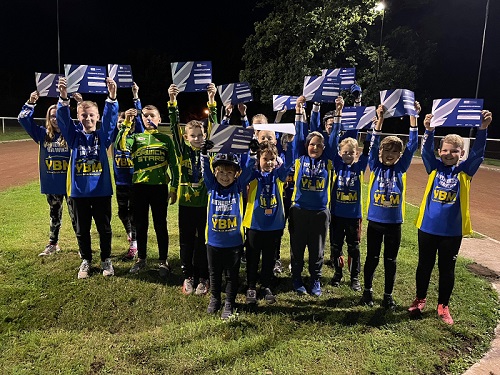 The seventh and penultimate round of the Norfolk HSBC GO-RIDE and Senior Grand Prix was held at a Harford Park track that had been made grippy by the previous day's rain although there was one spot that caught a few riders out.
With schools back a few of the younger riders were absent but this was made up for by a swelling of the Senior ranks as three riders made their first appearances.  One of these, Leigh Cossey, duly won all his heats and then made no mistakes in the "A" Final having drawn gate 1.  He kept up the amazing sequence of a new winner in each of the seven rounds – who can make it eight next week at Hethersett?!!
Racing was very competitive, noticeably in the Under-16 Final where Mason Martin came from last to first against two evenly matched opponents.  He is now certain to be top of the podium as a series winner next week, as are the other winners on the night – Max Pugh (Under-8s), Zachary Eastwood (Under-10s) and Connor Jarrett (Under-13s).  Still plenty to decide for minor places and the Senior 1-2-3.
Two keen riders picked up their first medals on the night – Arlo Davies in the Under-8s and Tabitha Neirop in the Under-13s.  The evening had a bizarre ending as a loud first bang of a local firework party sounded just as the riders crossed the line for the final race  – the Senior A Final – very apt!!!
Results of finals –
Under-8
A – 1 Max Pugh 2 Oscar Copeland 3 Arlo Davies 4 Remy Davies
Under-10
A – 1 Zachary Eastwood 2 Luca El Labany 3 Stanley Budds 4 Lola Maartin
B – 1 Austin Brailey
Under-13
A – 1 Connor Jarrett 2 Harry Dodds 3 Tabitha Neirop 4 Matthew Sidell
B – 1 James Hankey 2 Amelia Dodson 3 Thalia Silver
Under-16
A – 1 Mason Martin 2 Shaun Kell 3 McKenzie Loombe
Senior
A – 1 Leigh Cossey 2 Ben Loombe 3 Jamie Medler 4 Tom Blackmore
B – 1 Paul Delaiche 2 Paddy Wenn 3 Glyn Morgan 4 Dave Martin
C – 1 Rory Freeman 2 Nigel Longlands 3 Richard Taylor
Join us at the track for out 55th Anniversary celebrations on Sunday 19th Sept. 10-2 Legends get-together, 2pm Hawks U13 Cup, 4pm Breckland Autos Charity Cup!