Norfolk HSBC GO-RIDE and Senior Series Round 5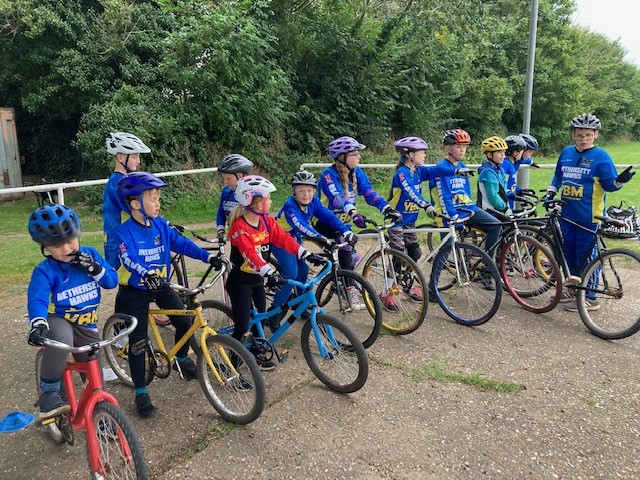 The crazy action of the circus that is the weekly Wednesday Norfolk HSBC GO-RIDE and Grand Prix Series moved to Harford Park for Round 5 and the full range of Norfolk talent was on display.  An incredible 40+ heats and finals were crammed into two hours and that included a long stoppage to attend to Will Blackmore, who had landed heavily on his back in his opening heat.  He was okay but sore and had to withdraw – a situation made worse that it was his second such withdrawal in five days having crashed heavily in the British Under-10 Championships.
It was a bitter sweet evening for the Blackmore family though as brother Tom led the Senior A Final from start to finish.  He became the fifth winner in the five rounds and, ironically, it is Jamie Medler, who has not won any of them, who leads the series.
The usual riders cemented their dominance in the lower age groups with Max Pugh (Under-8s), Zachary Eastwood (Under-10s) and Connor Jarrett (Under-13s) all adding gold medals  but not without some stiff competition.  Shaun Kell won his second Under-16 Final.
Two riders to impress were Stanley Budds, reaching his first A Final, and Harry Dodds, who is shaping up to be a fine Hethersett prospect after only a couple of months of racing.  A nice touch on the evening that may have gone unnoticed by the good-sized crowd – World Over-50 Champion Paddy Wenn congratulating every youngster individually when they entered the pits after their finals.
Next Wednesday Round 6 will be at Hethersett (6.45 – book in by 6.30)
Results of Finals
Under-8
A – 1 Max Pugh 2 Oscar Copeland 3 Ronnie Harding 4 Noah Cameron
B – 1 Grace Cameron 2 Arlo Davies 3 Remy Davies 4 Nyla El Labany (n/s)
Under-10
A – 1 Zachary Eastwood 2 Luca El Labany 3 Stanley Budds 4 Jamal Musa
B – 1 Lola Martin 2 Austin Brailey
Under-13
A – 1 Connor Jarrett 2 Aiesha Musa 3 Harry Dodds 4 Tabitha Neirop
B –  1 Will Clarke 2 Thalia Silver 3 Amelia Dodson 4 James Hankey
C – 1 Matthew Sidell 2 Alex Osborne 3 Will Blackmore (n/s)
Under-16
A – 1 Shaun Kell 2 Mason Martin
Seniors
A – 1 Tom Blackmore 2 Paddy Wenn 3 Jamie Medler 4 Paul Delaiche
B – 1 Dave Martin 2 Rory Freeman
Series scores so far can be found here https://www.hethersetthawks.co.uk/results/go-ride-and-senior-series/
Round 6 will be at Hethersett, 6.45 start.