Hawks May update!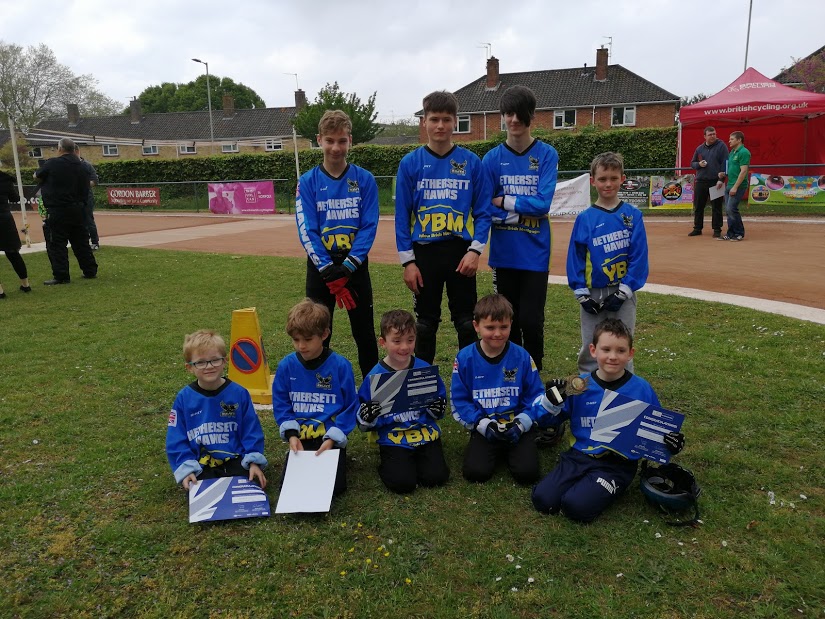 Charlie Lyth became Norfolk Underr-16 Champion when several Hawks, including many recent recruits, contested the Norfolk Junior Finals at Eaton Park. Charlie chose a bizarre way to win it though as the crowd were anticipating a classic race-off between Charlie and Scott Colby. Charlie dived under Scott on the first lap and slipped off. Thinking his chance had gone he looked up to see Scott fall after shedding a chain so it was a quick jump back on and ride to victory!!
He also pushed reigning champion Owen Wells all the way in the Under-19s with Owen having to make two good passes on his way to a maximum. Paul Delaiche was third in that age category.  Two Hethersett riders had to race-off for third place in the Under-8s – Tyler Slater defeating Luca El Labany.
HETHERSETT HAWKS / YELLOW BRICK MORTGAGES finally got a Division 1 win this season in the South East & Eastern League when the Club recorded a double victory over local rivals Norwich Stars.  A good crowd gathered at the Memorial Playing Field – more like an old boys reunion – and they had an entertaining match to follow with Hethersett always having the upper hand, mainly due to a greater strength in depth with ex-captain David Martin making a rare appearance.
Norwich were unlucky to lose Alex Dyball for a few races after a heat 1 fall but they could only win one race in the first half as the Hawks put in some good teamwork. They certainly improved second half but could not claw back the lead. Leigh Cossey dropped just two points and Paul Delaiche had a very strong match.
HETHERSETT 96 NORWICH 82
(L.Cossey 15 B.Loombe 14 P.Delaiche 13 H.Hamill 12 D.Afams 12 C.Lyth 12 D.Martin 10 G.Morgan 8)
The B team match saw Hethersett build up a good lead before bringing in substitutes and Norwich gave youth a chance over more experienced eligible riders. Charlie Lyth was unbeaten with a couple of excellent passes but it was McKenzie Loombe who was awarded Rider of the Match for a much improved performance in his three rides.
HETHERSETT B 91 NORWICH B 69
(C.Lyth 19 B.Loombe 14 P.Delaiche 13 G.Morgan 12 D.Adams 12 G.Larter-Dixon 10 M.Loombe 7 K.Adams 4)
This Sunday the Hawks A & B teams are away at Ipswich.