Hawks British Championships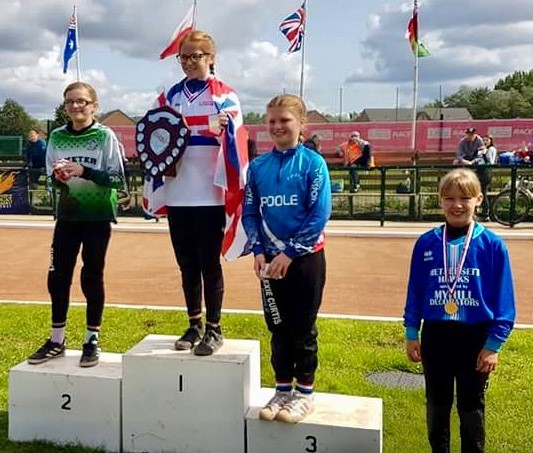 HETHERSETT HAWKS/ MYHILL DECORATORS had four riders competing in British Individual Championships in the North of England over the Bank Holiday weekend.  One came close to getting on the podium but the others found points difficult to accumulate despite being up to speed in most of their races.  For them it will be valuable experience and help them set targets for the future.
Shaun Kell slipped when leading a race in the Little League Under-10 Championship.  That cost him two points that might have kept him in contention but as it was he finished a creditable fourth with 15 points.at Astley near Manchester.  Sister Josie contested the Under-12 Girls Championship but lack of practice for four weeks contributed to her tally of just four points.
Owen Wells had a busy Sunday.  Competing in the Junior Championship in wet conditions at Sheffield where he finished 13th with 8 points, he also took up a late spot in the Open Semi-Finals and scored 12 points over two rounds.  Paul Delaiche had his first taste of the British Finals day at Hull on Monday.  Racing in front of a big crowd he scored six points (15th) in the Under-16s but was pleased he had the pace to keep up with the best in Britain.
Some of these riders will be back on the national scene this Saturday for the final round of the British Youth & Junior League at Horspath (Oxford).  Sunday sees the launch of a new regional Cup competition with Hethersett hosting the first leg of their group against Gt.Blakenham and Norwich, starting at 1 p.m.