Hawks back at the track – Tuesday June 30th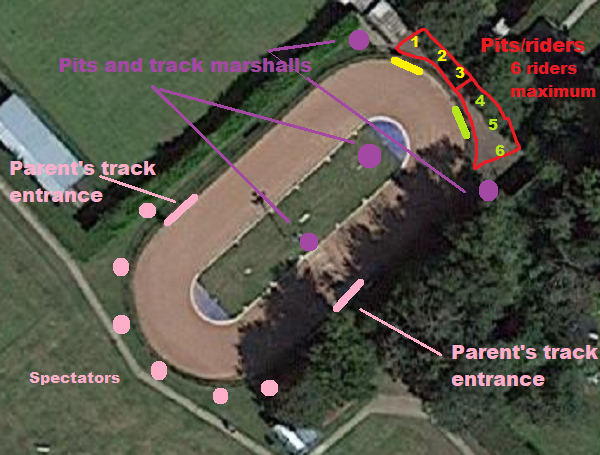 At Hethersett Hawks we still don't know when normal Club Nights will be able to resume, but we've come up with a plan for covid-safe training sessions in the meantime. These sessions are very different to what we are used to on Club Nights so please read further details below. We intend to start the sessions on 30th June, as long as government and British Cycling guidelines continue to allow. We must stress that if a rider or anyone in their household are showing any symptoms of coronavirus – that is a temperature or a new, persistent cough or a loss of taste or smell – everyone in the household must stay at home, contact NHS 111 and follow the guidelines.
We will hold training sessions every week on Tuesday evenings and Saturday mornings. Each session will have 3 time slots, each of which will be open to a maximum of 6 riders. Only riders who have booked a time slot will permitted to ride. Social distancing rules must be followed at all times.
These are the available time slots and each individual rider MUST book in advance to be able to ride:
Tuesday evenings – 6.00-6.45 / 7.00-7.45 / 8.00-8.45
Saturday mornings – 9.30-10.15 / 10.30-11.15 / 11.30-12.15
Initially members can only book one time slot at a time – if there are gaps available closer to the date more slots may become available to book.  New riders are encouraged but we can only accommodate up to two in any time slot and they should have watched a training session previously to speak to a club official and understand the rules. Time slots for each individual rider must be booked through the Teamer app (*see below).
Each session will last for 45 minutes and consist of time trials, training and relay races – all of which can be competitive but will ensure that there is social distancing on the track as well as off. Although the sessions are shorter than a normal Club Night having less riders means more time on the track, so should be a benefit to all.
Riders aged under 16 must be accompanied by a responsible adult from their household who will stay at the track for the duration of the session. If the rider has an accident the responsible adult must assist the rider. Access to the track to assist will be by the gate near the starting gate or gate near the water tap. If further assistance is needed the club first aider will attend the rider and will wear appropriate PPE.
Each rider will be given a number 1-6. The pits will be divided by tape into 2 separate areas. Numbered plaques 1, 2 and 3 will be placed 2 metres apart at the tea hut side of the pits. Riders 1- 3 must base themselves at their respective numbers and will use the gate by the tea hut to enter/exit the track. Numbers 4-6 will be placed 2 metres apart at the other side of the pits and those riders will use the normal pit gate to enter/exit the track. The gates can be pulled to, not bolted to ensure a minimum of contact. Only riders numbered 1-6 will be in the pits areas and they must stay in their respective half of the pits. Riders for the following time slot will not enter the pits until all of the previous riders have left.
To ensure that social distancing is maintained within the pits and answer any queries the riders have, two adults will be posted either side of the pits, at least 2m distance from the riders. These do not need to be club officials, we are hoping that some of the parents attending with their child will also perform this role.
In the centre of the track will be 2 club officials running the session.
Anyone who is not riding and not marshalling the pits or track must be at the park end of the track. Social distancing must be maintained at all times. The fence posts are roughly 1.5m apart so can be used as a guide on distancing.
Handwashing and toilet facilities are not available at the track or the pavilion. There will be hand sanitiser available to riders and we recommend spectators bring their own.
Riders who have borrowed a bike can keep that bike for their own use during this time, i.e. bring it to the track, use it and take it home again. Riders who do not have a bike will be allocated one when they arrive. Riders will not be able to share bikes during this time.
We strongly encourage riders to bring their own gloves and crash helmet, but these can be borrowed from the club. Adults accompanying children will need to assist with putting their helmets and gloves on. Riders must be covered from head to toe. We will not be able to lend out club shirts.
After a time-slot has finished any club bikes and helmets will be cleaned and gloves will be washed.
There will be no access to the tea hut or bike hut, other than by club officials. We cannot currently offer any refreshments so riders must bring their own drink. The training sessions will be charged at £1 each, but we cannot take any cash so Lucy has set up a club paypal account. Subs can be paid on the night or in bulk to cover a few sessions to the hethersetthawks@outlook.com paypal account, selecting the 'send to a friend' payment option so you aren't charged paypal fees.
The club knows how keen everyone is to get back to normal racing. The new training sessions will be a good start and scalable for when restrictions relax further.
Any questions, comments or suggestions are welcome.
*Teamer app/booking a slot:
All riders currently registered to the Hawks Youth Squad have also been added to the Hawks Club Night team. If you don't currently use Teamer use this link http://tinyurl.com/ycos8euc, enter your details and click 'Send request to join team'. You can download the app to your phone, access via pc, or respond via the email message.
6 time slots per week will be available on the app to book. All riders registered to the 'Hawks Club Night' team will receive a notification that they have been added to the 'lineup' for each of the 6 time slots. This means you will receive 6 emails from Teamer a week, but you only need to respond if you want to book one of the slots. If you later find you cannot attend a time slot that you had previously accepted, please go into the app and decline it.
To see who else is booked for a time slot or change your attendance status, go to 'Events', click on a training session time slot and 'view lineup'.
Please book the slot as far in advance as you can so that we can plan the sessions.
If you are having trouble booking a slot or don't want to receive notifications of training sessions contact Jenny.