Another win for Luca!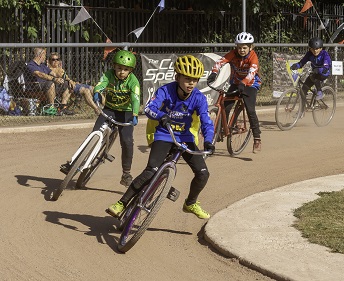 HETHERSETT HAWKS / YELLOW BRICK MORTGAGES' newly crowned Little League British Under-10 Champion Luca El-Labany was back in the Midlands contesting the second national round of the British Youth & Junior League.  Having won the first round in Suffolk this was another big test of his ability on the fast Wednesfield track.  Despite suffering one defeat in the heats he coasted into the A Final and then produced a smooth, calculated pass to go from second to first on lap two.  A second success puts him clear in the four round series – next stop Newport in Wales on August 20th.
The older local riders were in action at Eaton Park for Round 3 of their Norfolk Grand Prix series.  Numbers were down due to injuries and holidays but five Hawks raced against their Norwich Stars rivals. Jamal Musa defeated Lola Martin in the Under-16 Final and Aiesha Musa defeated Amelia Dodson in the Female 12+ final. Mason Martin was leading the Senior Final but a mistake midway through let in home rider Tom Blackmore. However, second place put Mason top of the series leader board at the half-way stage.
Click here for the latest tables: https://www.hethersetthawks.co.uk/results/go-ride-and-senior-series/