A new Nest for the Hawks!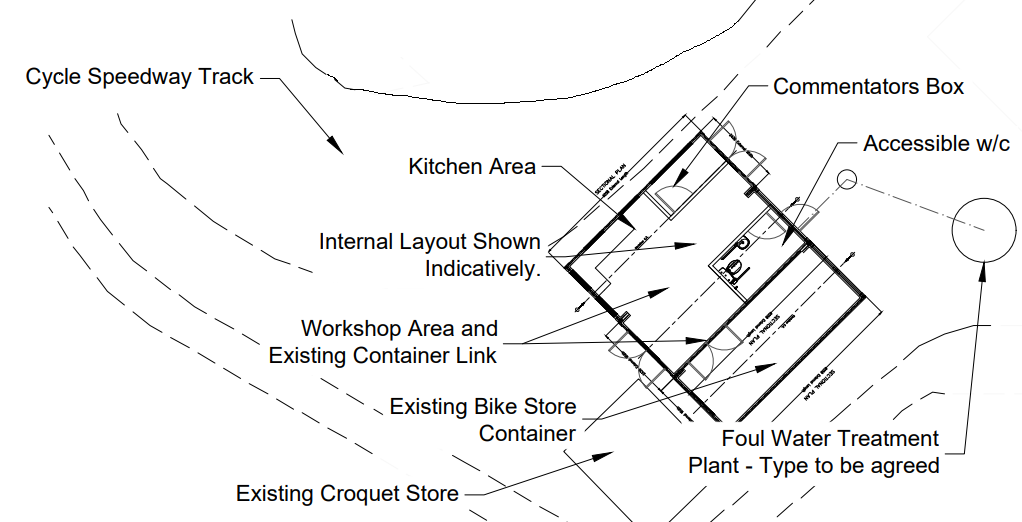 We'd like to announce our plans for development work at the track! Most of our members are probably aware that we've been planning to upgrade our facilities and we can now give you some more detail on the Hawks new Nest!
We will be extending our existing bike container, by adding 2 extra containers. These can be connected, walls removed and configured to our requirements. As well as the existing bike storage, the new Nest will incorporate a toilet, kitchen, commentator area and a large workshop. See attached plan for more information.
Whilst it will be very useful to have a toilet at the track and a modern kitchen, the addition of the workshop area is really exciting! We will have the space and the tools to teach bike maintenance skills to club members and our local community! We know from experience how important this will be, in particular to our youngsters. They can learn a new skill, something they won't learn at school and may not have the opportunity to learn at home. We can hold the bike workshop sessions as often as required and even throughout the closed season due to the new weatherproof facilities! Not only building confidence and self-esteem, it may lead to some more individuals deciding to embark on a career in engineering! We intend to open up these sessions to the wider community as well, not just Hawks and their families. Hethersett already has a lot of clubs running within the village and this will be a useful and unique addition!
In addition to the Nest, we will be maing other improvements to the track, including electronic starting gates, re-concreting of the starting grid and corners, paving the path to the pits and the actual pits (no more walking over that rocky surface in the pits!).
The Memorial Playing Field Committee support our plans and we've applied for planning permission from South Norfolk District Council. We are now in the process of raising the money needed to complete the work. You will see more updates on our Facebook page and Teamer over the next few months, please help when you can!
Hethersett Hawks are applying to several places for grants towards this work, but we as a club need to raise at least £5,000 towards the work. You will know that we always aim to keep our costs to riders at a minimum so our fundraising team has come up with lots of fun ideas and we will need your help sharing and advertising them.
We intend to kick-off with a biggie – by staging a 24-Hour Endurance Race! Hopefully over the Easter weekend, the date will be confirmed nearer the time when we know that Covid restrictions allow it and that it will be safe. We will need around 50 Hawks riders and their families to take part. Don't worry you won't need to ride around our track non-stop for 24 hours! But we would love you to take part in the 'once-in-a-lifetime' adventure of cycle speedway in the middle of the night!
As for the start of the 2021 season – we don't know yet when we will be able to start training sessions, but there are lots of preparations going on so that we can start as soon as restrictions allow.
Upcoming events for the Hawks – Friday 19th February, 6.30pm – Hawks 2020 Presentation Night and our AGM is on Sunday 28th February at 3pm. Both events will be held via Zoom. All Hawks will receive invites via Teamer nearer the time. We hope to see you all at the Presentation Night!
Looking forward to another exciting year at the Hawks! See you all soon!
COYH!