Rod Witham Memorial Fours – June 3rd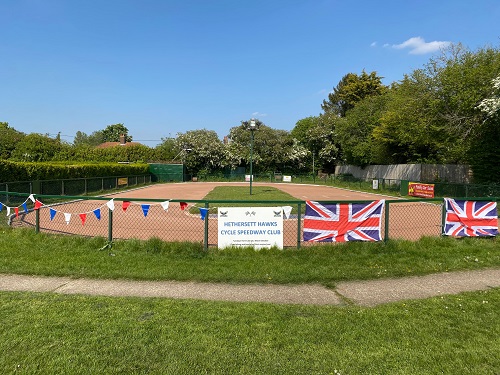 HETHERSETT HAWKS / YELLOW BRICK MORTGAGES are staging a tournament on Friday June 3rd as a tribute to Rod Witham who passed away in 2020 and who had such an influence on the sport of cycle-speedway locally, nationally and internationally with his drive and foresight in promotional and sponsorship areas plus establishing international links for the first time.
Rod staged a Fours Tournament, one of the first of its kind, at Sloughbottom Park in Norwich in 1977 as part of the Queen's Silver Jubilee weekend and 16 teams took part.  It seemed fitting to try and repeat that exercise for Her Majesty's Platinum Jubilee. Rod's 1977 programme can be viewed here: https://www.hethersetthawks.co.uk/club-information/history/all-england-fours-tournament-programme-1977/
A big thank you to the Clubs for supporting this event on Friday June 3rd at Hethersett in memory of Rod Witham and as part of the Queen's Platinum Jubilee weekend celebrations.
Unfortunately we were not able to attract the same number of teams as Rod did in 1977 but we are looking forward to staging a fitting tribute to someone who had such an influence on the sport we know today.
The arrangements for the racing, sponsored by Yellow Brick Mortgages,  are as follows –
12.00 Semi-Final 1
1 Ipswich B        2 Horspath        3  Gt Blakenham        4 Hethersett A
13.30 Semi-Final 2
1 Ipswich A        2 Birmingham    3 Norwich                4 Birmingham B
15.00 Consolation Final
Teams finishing 3rd and 4th in Semi-Finals
16.30 Grand Final
Teams finishing 1st and 2nd in Semi-Finals
Teams must be represented by the Club's BC members and, as the event is BC registered, riders will be required to pay the £1.50 match levy and provide BC membership numbers. Teams should arrive at least 30 minutes before their semi-final to ensure the admin is completed and the event runs smoothly to time.
Light refreshments are available immediately afterwards at Hethersett Social Club on Queens Road.  Please let Mel know by Tuesday May 31st how many of your party are likely to stay so that we can give a rough estimate to the Social Club.  The Club has musical entertainment in the evening and members of our party are welcome to stay and enjoy.
Members of Rod's family will be in attendance and it is hoped that many in the sport, past and present, will attend and support this  tribute to Rod.